Sometimes it occurs to me that no matter how proud I am, I do need help parenting. Sometimes it occurs to me that in order to maintain sanity I need hours to myself, sometimes daily, and those hours to write, read or sit on my bed and daydream make me a better momma. More patient, more happy to be coloring with beeswax crayons or answering 205 questions. The week after Christmas was one I had big plans for – I am gearing up to start a small homeschooling program with Paige (mostly ABCS and nature centered stuff) and I wanted to take that week to declutter, list things on freecycle, and take down the Christmas tree. And instead we got the flu. And since my husband had work, I was the one caring for kids while trying to nourish my body.  It was horrible;  I was snappy, mean, told Paige to shut up multiple time, cried, was sleep deprived from being sick at night and having a sick six month old, and all in all it was a miserable no good week. All my plans were out the window, but this week is a new week and one where we are hoping to get back on track. The germs are gone, and we are in better spirits.
Here are some photos from Christmas I meant to share, but haven't had time to sit and upload them. Paige spent the entire day opening gifts, and wearing her Mrs Claus dress — so adorable! She really is beautiful huh? For two funny looking people we make some adorable children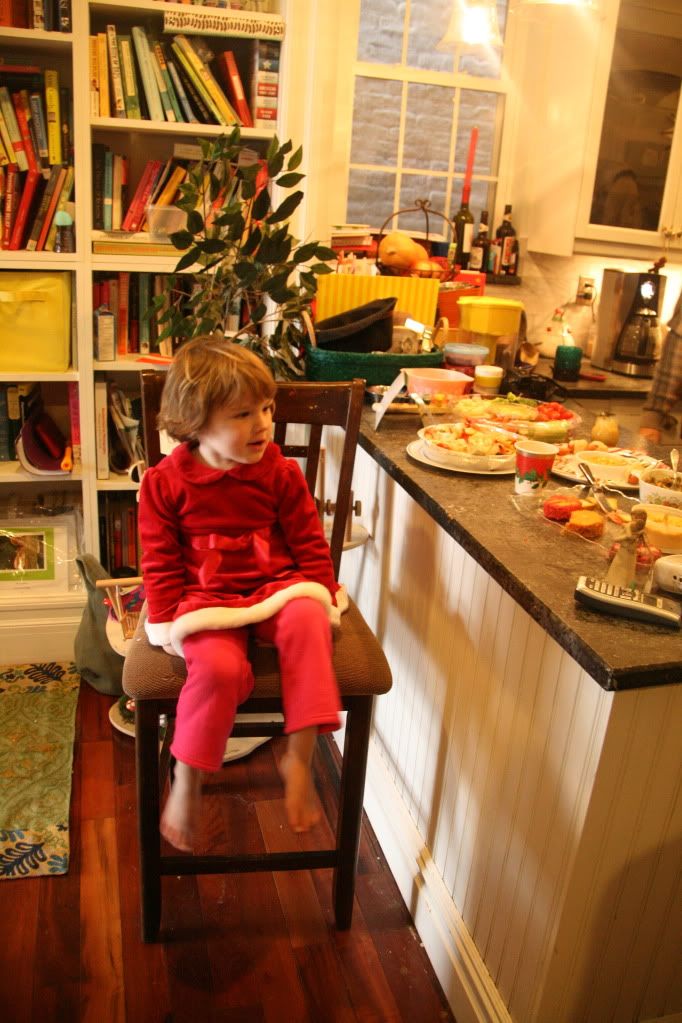 I do think my kitchen is the favorite part of my house. It's where we spend most of our time cooking, baking, hanging out, talking, arguing etc
Paige and I are arguing lately, like teenagers. She gets so frustrated with the people around her (especially the younger friends we have) and at home she can be tiresome because of the negative attitude, sighing, and obsessing. Despite that though we are trudging through, and 90% of the time she's pretty delightful. This week we are putting together some bird feeders and making a bird watching station near the back door. A little nature during the gray, city winter? I hope so….while the culture and rush of the city can be alluring I'd much rather live in the country. Where I can walk around in front of my windows in my underpants. If I walked around in my underpants here well, lets say the entire neighborhood would see me and go blind!