This momma now REVIEWS!
As you know Paige had her second birthday. Of the things we [my husband and I] bought her, THIS was the prettiest: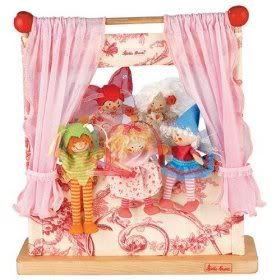 What a magical toy – a miniature puppet theater with magical fairies to accompany it. When we opened the box I was smitten, but a tiny tiny teeny part of me was like "dude, this was $68 and you could have made it.." Than, my MORE sensible voice reminded me that I'm not very crafty, didn't have time, and the product was beautiful.  I would say this product would be for anyone ages 2-adult, because my daughter is 2 and played with it solo, and had me put on some puppet shows as well. I'd also like to throw in that if you are worried about space, shhh quiet. This product is PERFECT for the counter top, isn't tiny but not huge, and works perfectly if you live in an apartment.
This momma gives it: 4 stars
If you want to read about fairies, my favorite from 2002 happens to be this: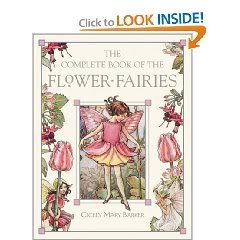 The illustrations are magical, and it makes for a fantastic slew of bedtime prose. Paige the toddler isn't really into this book yet, but that doesn't mean I don't read it myself…I have a thing for fairies if you couldn't tell. This can be one of those books that lasts a lifetime, and you can find it used mostly anywhere ( and obviously from Amazon)